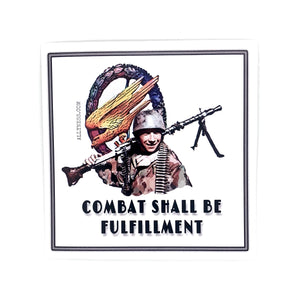 We paid an old Gypsy woman to get in contact with Herman Goring in the spirit world - He said he wanted Allyness.com to carry on the Official outlet for all original FJ shit, He then told us to fuck off as he was getting a BJ from Kristina Soderbaum!
Crazy fat cunt!
New and improved with the first creed law of all Fallschirmjager or and combat soldier!
Waterproof Sticker, stick it anywhere!
Measures 110mm x 110mm
Original artwork by Rango
Official FJ approval  
DID YOU KNOW YOU CAN SUBSCRIBE TO OUR STICKER MEMBERSHIP?