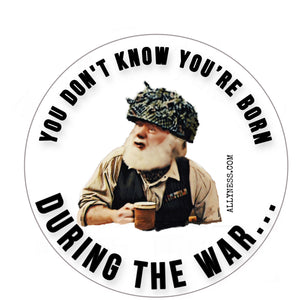 Have you got a mate who is the Dits King? Maybe its your boss who can stop making you pull up a sandbag? or even your other half or your Dad?
Buy them this sticker of Uncle Albert dressed in his airborne rig, he completed his jump training only to use it on unsuspecting publicans to rinse them out of cash years later - Geezer!
Waterproof sticker measures 110mm diameter. 
Original artwork by Rango.
Stick Albert anywhere!
During the War!
DID YOU KNOW YOU CAN SUBSCRIBE TO OUR STICKER MEMBERSHIP?