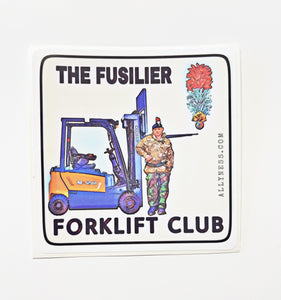 Men and women at war often find themselves in totally obscure and abstract surroundings, this environment can sometimes make young unexperienced soldiers (at any level) conduct all manner of crazy and irrational actions.
The RRF known for their solid professional no nonsense infantry soldiering, are one of Britains finest combat regiments. They served with distinction in Iraq, and did get into forklift driving at one point.
Sticker designed by the Fusilier of the Allyness Team.
Measures 105mm x 105mm.
waterproof can be stuck on forklift or car.
A reminder that bored soldiers are as dangerous as employed.
"hear the words i sing, counterinsurgency is a horrid thing, and so i sing sing sing... ding-a-ling-a-ling"