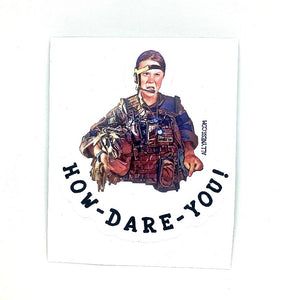 The Army is a one-off place to work!  It's sole purpose is to kill other humans that try to kill or steal a nations people or interests, its as simple as that. Unfortunately instead of concentrating on this simple barbaric fact, the modern army has tried to harmonize itself next to the civvie population. This has caused Bosses to talk in corporate management speak and for modern public opinion to infest the ranks.
Our Greta sticker is universal, it can be used by the QM's department when you request too much new kit, or by savage bastard section commanders if you biff out of training. In fact you can slap Pvt Thunberg where you like.
Designed by Rango after 10 pints of Stella.
Printed on waterproof vinyl.
110mm x 100mm in size.
WOKE Friendly.  
Environmentally friendly. 
DID YOU KNOW YOU CAN SUBSCRIBE TO OUR STICKER MEMBERSHIP?