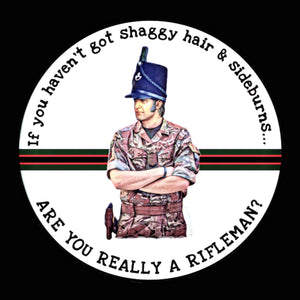 You should be constantly challenging the C of C with outstanding sideburn growth and hair like a 1970s pimp!
Fuck off your twisters and grow a set of bollocks the RSM would be proud to display in public! (that's if your RSM is not a pole climbing fuck weasel)
From the murky depths of the Allyness studio.
Designed by Rango.
Waterproof (can be stuck on the COs Car)
Measures 110mm diameter.
Old skool skirmisher style.
Allyness Saves Lives.