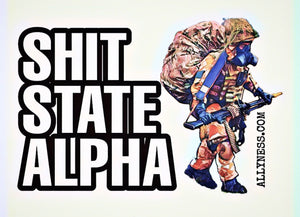 Being pushed to your physical and Mental limit is part and parcel of Soldier training, This twilight zone of half dying and building resilience is often a great topic of conversation later in the bar. "Did you see Smithy on that advance to contact, When I reached him at the re-group he was dribbling like a mong and had very definitely shit himself!" We have all been there at some point!
Celebrate your time in clip with this fantastic sticker.
Designed by Rango at Allyness.
Water and body fluid proof.
120mm x 90mm.
ideal gift.
Great for young officers.
DID YOU KNOW YOU CAN SUBSCRIBE TO OUR STICKER MEMBERSHIP?