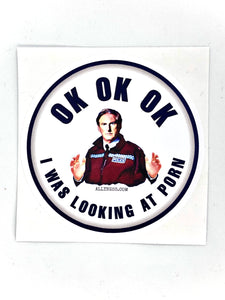 Even Ted (Catching Bent Coppers) Hastings gets caught pulling his plonker to some laptop grot! Join Ted and smash this slap on your lappers.. Or Your bosses!
Original Allyness artwork.
Vinyl waterproof sticker you can slap anywhere.
90mm diameter ideal for laptops. 
Hold your hands up and be proud of your power wanks!
DID YOU KNOW YOU CAN SUBSCRIBE TO OUR STICKER MEMBERSHIP?