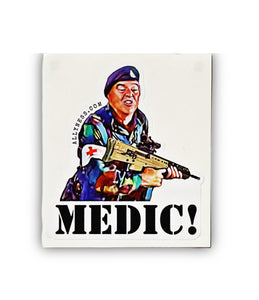 Back in the 80s there was lots of ally inspiration everywhere.
The UK had just smashed the Argies in the Falklands, Lads from Hereford had put on the best balcony scene since Romeo & Juliet, war films were everywhere and flicks like The wild Geese, Who Dares Wins and A Bridge too Far were weekly Sunday night viewing!
Arthur Witty was the mean little medic from The Wild Geese with a Passion for Barbra Streisand!
Now with SA80

Designed by Rango

Gen 2 Stickers

One for the Medics

Measures 100mm x 95mm

Body fluid safe!